Me fucking my wife and her sister together happened about twenty years ago but I remember it perfectly and have enjoyed masturbating to the memory many times!!
I had been out at work for the day and was about to head home when my wife phoned and asked me to pick her up at the local shopping mall on my way home. When I got there I had to park and go in to meet up with her as she wanted to pick up some wine for the weekend.
When we met up I saw that she was there with her sister who is four years younger than my wife. I have always fancied a fling with her but it never went further than a bit of flirting and sexual innuendo from both sides. She is married, a bit of a 'tom-boy', but had a great figure with nice tits and ass. Anyway, we got the wine and headed back out to the parking lot.
I was driving a single cab pick-up truck which had a bench seat so the three of us climbed in and headed home, my wife sitting in the middle. I had already picked up that they had been enjoying some wine through the afternoon and I know that my wife gets very randy when she has wine so I wasn't surprised when she put her hand on my thigh and said "I need you to take me home and fuck me!" I grinned at her and asked "What about A***e here?", referring to her sister. My wife turned to her sister and asked her "Would you like to watch us fuck?" "Mmmmmm, yes!" A***e said, "Maybe I'll do more than just watch!" "That's okay with me!" said my wife as she rubbed my stiffening cock through my jeans.
It wasn't long before I pulled into our driveway and parked. I had the shopping bag in one hand and was unlocking the front door to the house when my wife pulled down my zipper and eased my cock out of my jeans.
Fucking My Wife and Her Sister
Once in the house, I put the shopping bag down and we headed straight for the bedroom, stripping each other as we went. There was a trail of discarded clothing down the passage and we were both naked when we got to the bedroom.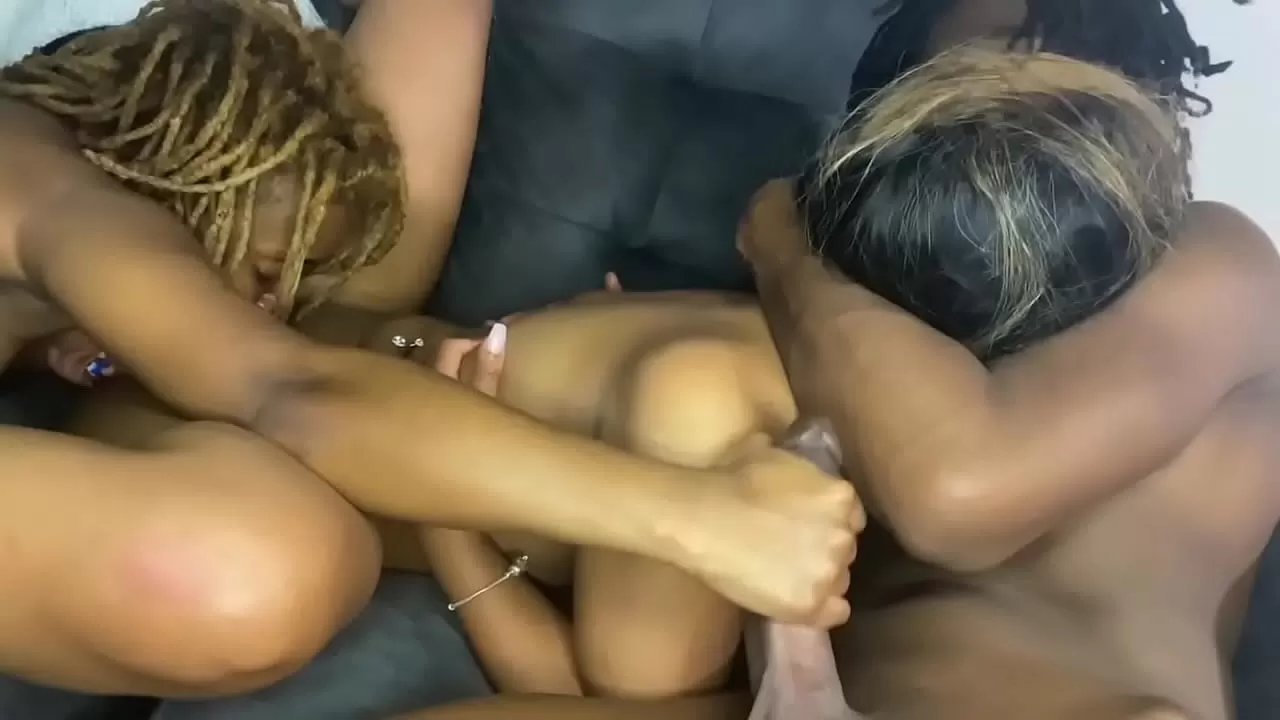 My Wife
A***e had followed us and I felt her hand on my butt as I pushed my wife down across the bed, my hand groping between her legs. She scooted herself fully onto the bed and spread her legs wide, pulling me over her, both of her hands on my throbbing cock. I was holding myself up as I sank my cock slowly into her wet pussy when I saw A***e climb on the bed as well, lying on her side, propped up on an elbow watching us. She reached across and put her hand on my ass again, pushing slightly as I ground my hips against my wife, my cock balls deep into her.
As I started thrusting into my wife A***e rose to her knees, her hand still on my ass, and started fondling my wife's tits and nipples. I could see that she was well aroused and with a moan, she pulled her T-shirt off then lay back and took off her jeans and panties in one smooth motion.
She rolled onto her side again, pressing her body against my wife but I put a hand on her hip and pushed her over onto her back so that I could get my hand onto her pussy which was covered by a lovely bush of tight, crisp curls. Feeling her wet, slippery pussy sent me over the edge and I blasted a load of spunk deep into my wife. My wife put her arms around me and pulled me down onto her and whispered "Do you want to fuck A***e?" I just nodded, so she released me and I lifted myself off her, kneeling between her legs. "You okay with that?" she asked A***e.
Her Sister
A***e just moaned and spread her legs, already frigging herself with two fingers in her pussy. I moved between her legs and pulled her hand away so that I could push my cock into her. I wasn't about to risk them cooling down and retracting the offer!!
As I pressed my hips hard against A***e's, feeling my cock throbbing in her I said to my wife "Take her bra off, I want to see her tits!" My wife reached across and managed to unclip A***e's bra, releasing her beautiful, full tits for me. I lay down with my full weight on A***e, loving the feel of her tits against my chest as I fucked her.
All too soon I was on the brink of coming so I held A***e's face with both hands and kissed her, my tongue deep in her mouth as I filled her pussy with my hot cum. A***e bucked against me as she also surrendered to a long, shuddering orgasm. "God, that is so hot!" said my wife and she embraced both of us as I lay on top of her sister.
If you have any erotic stories such as this one where you crossed a sexual fantasy off your bucket list, share it with us and we will post it here anonymously!!
Did you enjoy the fucking my wife and her sister story?? Share n the comments below.